Justin Jones is Berkeley.
His long hair, dirty hat which he calls "his buddy," and unshaven face conjure images of some of Telegraph Avenue's most infamous characters and not a consensus Freshman All-American southpaw. But he is just that. In his Sophomore campaign, Jones went 9-6 with a stellar 2.93 ERA, while striking out 81 batters (good for a 6.1 K/9), and only walking 31 (2.3 BB/9) in 119.2 IP. Most impressively, in his last two postseason appearances he struck out 10 in 6 2/3 innings against Alcorn State as Cal rallied back from an early deficit, and held Dallas Baptist to one hit in six innings.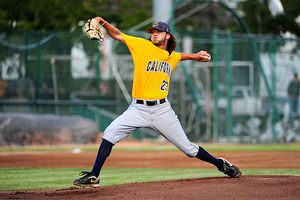 Despite his impressive numbers, what keeps me intrigued about Jones are his eccentricities.
In recent interviews on KNBR's Murph and Mac Show and Bearterritory.net, Jones talked about his affinity for hugging, swearing that the key to living a healthy life is 15 hugs a day. He lives his philosophies, giving each one of his infielders and catcher Chadd Krist an embrace before every start. It's part of his pre-game routine, one he hopes he can take beyond college, stating: "Hopefully, if I move on, I can still do it, but I don't think that some hard-nosed people will appreciate me hugging them during a game and whatnot." I would love to see him try that with A.J. Pierzynski, so if it doesn't work out Jones can go all Michael Barrett on him.
Along with the hugs, Jones keeps a stuffed Rattlesnake with him that follows him out to the mound when he's warming up. Pause for a second and think about that a little longer. Jones takes a stuffed snake out to the mound with him during warm-ups.
I'm really pulling for this guy to succeed, simply to watch how his quirks play out at higher levels. Imagine him at a big-league ballpark in front of 50,000 fans bringing his rattlesnake, or stuffed penguin, or whatever good-luck charm he has out to the mound. I want to hear him give silly, ridiculous answers to Buster Olney's questions. I want to see this character strike people out at the next level. I want to see someone that is capable of having fun on the diamond succeed at the big-league level, for there are far too many athletes who are just flat-out boring.
Jutin Jones is a breath of fresh air. And a damn good pitcher.